Timber frames and Counts of Champagne
I find that this city of 65,000 inhabitants, nestling in a bend in the River Seine, has a charm that will leave only the most insensitive unmoved.
This 1h30 tour through Troyes' heritage can be enjoyed strolling along narrow medieval alleys and streets lined with timer-frame houses and churches. It's a real joy: wasn't it the writer, Milan Kundera, who said: "What more can we ask for, than to be happy for a moment?". Well, this is the moment thanks to the guide who managed to delight us and stimulate our desire to know still more!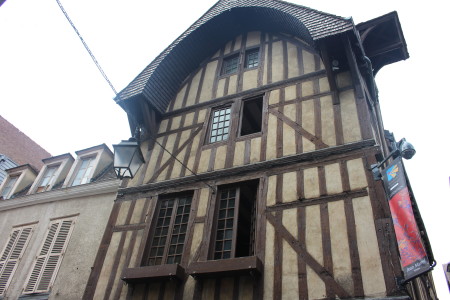 I was surprised by her cheerful and passionate tone as she began the visit with a brief history of the city:
1) The medieval period with the Counts of Champagne.
2) The renaissance: In 1524 the city burned, the houses were rebuilt.
3) In the 19th century: The development of textiles.
Then we set out through the medieval alleys:  Rue Champeaux (originally a small field), with its Maison du Boulanger,  Ruelle des Chats and Sainte-Madeleine church with its extraordinary flamboyant Gothic stone rood screen. Its Saint Martha statue; then a stop at Hôtel du Lion Noir (blood red in colour), it was built at the end of the 16th century by a rich merchant. Its restoration revealed a wonderful carved Renaissance façade under the roughcast plaster.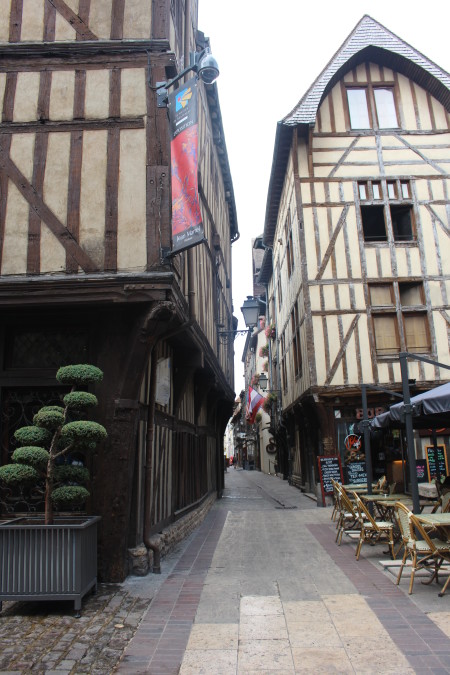 Troyes in the Gallo-roman period
The Seine Valley has always been a major communication route. However, it was only when the great Lyon Way or Agrippa Way to Boulogne-sur-Mer was built (in about 22 BC) that a city with the Latin name of Augustobona was born. The Tricasses occupied houses scattered in the marshy valley. In the 1st century before Christ, Troyes was only a small town along a Roman road. In the 3rd century a fortified settlement appeared in the centre called the Troyes "oppidum". Later, Augustobona was looted and ravaged by the barbarian invasions that devastated Gaul.
Then the city was surrounded by a strong wall built according to custom with the ruins of the abandoned districts. In about 429, Abbot St Loup established an abbey. However, despite its ramparts, the city was not able to withstand the wave of Norman invasions, which completely ruined it at the end of the 9th century.
We part on the square in front of Eglise Saint-Jean-Au-Marché, where in 1420, Henry V, the king of England, married Catherine of France.
I tested this tour for you. Conclusion: Don't wait any longer!
Rendez-vous à l'office du tourisme
14h30
Each afternoon in summer
16 rue Aristide Briand -10 000 Troyes