The staggering career of Erwin Schriever, builder of the windmill in Dosches!
Born in December 1962, of Dutch origin, Erwin arrived in France in 1983 at the age of 20 years to become a carpenter: he toured France with the Companions of Duty. Next he wanted to return to Holland to maintain the wood structure of boats and mills. But a romantic encounter in Lusigny-sur-Barse permanently brought him to a standstill in our beautiful department.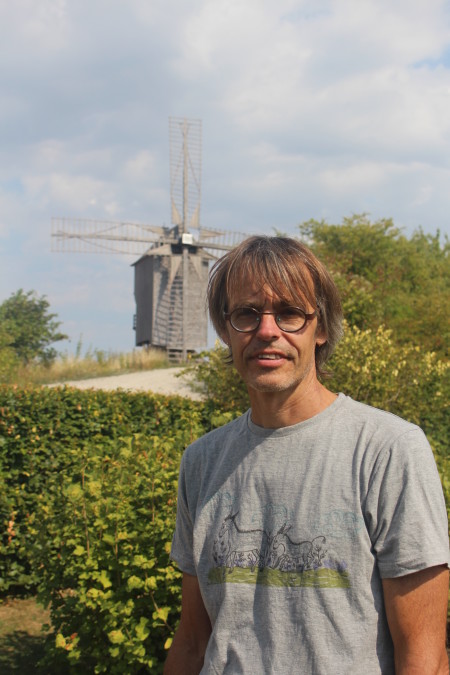 I was surprised by everything he had already done and what was not finished yet!
He set up his company in 1992 in Courteranges as a carpenter (15 employees over the years). In particular he built a wooden staircase in the outbuildings at the Château de Vaux in Fouchères, restored the main building of the "Maison de Rhodes" hotel in Troyes and restored the churches of Magnant, Villy-en-Trodes and Yèvres-le Petit.
In 2000, with his son-in-law, he founded a carpentry company and restored thirty 16th century façades in Troyes city centre. In 2002, he founded the "Champenois windmills" association over which he presides. In 2004, he founded a workshop providing work for young people from 18 to 30 years of age. In 2007, the windmill was inaugurated, designed and built by the "Champenois windmills" association, with the help of Dosches municipality, Orient Forest Regional Park and the local authorities. In 2014, he created a wash-shed in Nogent-sur-Seine and designed the new building for Troyes Office of Tourism. In 2015, he built a water mill in Franche-Comté and restored the churches in Buxières-sur-Arce and Avirey-Lingey …
Why a mill?
Erwin designed his mill based on a postcard. His idea was to preserve and value the region's artisan heritage. That is why it was important for him to rebuild a post windmill like the 140 windmills of this type built in Aube in the 18th century.
Why Dosches?
It was the first community to accept this ambitious and a little crazy project to rebuild a mill.
Why Erwin Schriever?
He is fascinated by the technical skills of previous generations, who built the buildings of the 16th and 17th centuries and wanted to perpetuate know-how that had disappeared.
Why such a success?
15,000 visitors each year. It's thanks to the dynamism of a whole team of volunteers and thanks to his wife, that he managed to bring such beauty to the site.
I reached the site on the departmental road, Route de Rosson: a marvel this gigantic mill on the heights of the village of Dosches. I highly recommend this visit!
I was moved by what he had to say because Erwin's story is a beautiful story! I met a man who was particularly touching through his simplicity and humility. As Anne Barratin said: "humility is the beauty of the soul".
Practical information:
Contact and bookings: 0325415588 / 0325429237
 http://moulinaventchampenois.fr
Rates 
Non-guided tour of the site (mill, barn and garden): 3 €
Guided tour for school groups (booking only): 4 €
Guided tour for groups (booking only):): 5 €
Free for children under 10 years of age
Opening times 
In the week:
01 March to the end of November:
Wednesday, Thursday, Friday 10H à 18H
Sundays:
March, April, October, November from 14H à 17h
May, June, July, August, September from 14H à 18H30
Guided tour of the mill 
Fridays only from 17h à 18h
Saturday (June, July, August) from 14h à 18h
New: educational day for children
Guided tour of the windmill and construction of an insect hotel or a small mill to take home.
17 euros per child, preferably Tuesday
(free for accompanying adults)
2015 Events
20 September: European heritage days
29 November: Christmas at the mill (bread making)