A friendly and gourmet day!
You're a keen gourmet. You enjoy champagne. What's more you love nature, and friendliness, and you like surprises. Then just imagine a gourmet lunch organized by Rémy Massin et fils in collaboration with the chef Julien Lassere from Hôtel Restaurant du Val Moret, accompanied by excellent champagne from seven different vintages, two of which won gold medals. Not bad?
Imagine a clear blue sky, vines growing down the gentle slope in front of you into the village, a large tree providing pleasant shade and there, in this rustic setting, a table set just for you. Surprised?
All this does indeed exist and on 24 July, just for you, I tested a picnic in the heart of the prestigious Côte des Bar vineyard, in Aube en Champagne, at Remy Massin et Fils, in Ville sur Arce.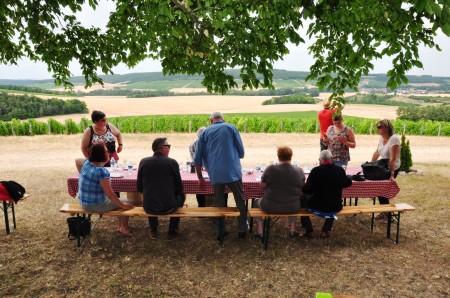 Reception and a tour of the cellars
It all starts at 11.00 at the property. Carole Massin welcomes her group of the day. 10 people, 8 of whom have come specially from the Lille region as a family. A quiet word with each of us and then we're in the cellars. Listen carefully to Carole's explanations because between two vintages, later during the picnic, you will be questioned.
The 22 ha vineyard has been in the family for four generations. Carole explains everything, from vine to bottle. The juice is extracted per marc of 8,000 kg of grapes in modern, pneumatic presses. 5,100 litres are obtained at this level, in 4 hours, from the press being filled to the tanks being cleaned. We then visit the maceration process, then the "salle des pupitres" where the bottles are handled. This process, automated these days, allows filling to be concentrated in the neck and I was surprised to learn that it is in the form of a block of ice that in the end it spurts out from the bottle … 140,000 bottles of champagne are produced each year and sold in Europe as well as Reunion Island, Singapore, Japan, California and Florida.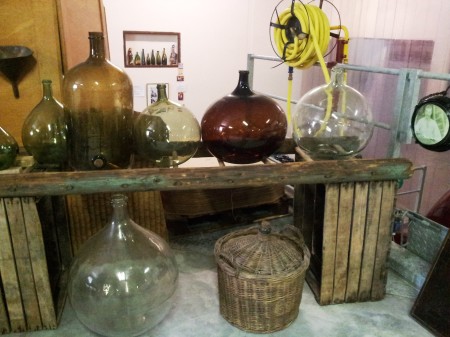 Carole has brought a feminine touch to the way the cellar is decorated and you can see, among other souvenirs from the past, old demijohns and a beautiful collection of ammonites found in the chalk remains of the Cretaceous period.
Departure to the vines
12.00: Departure by car via the vineyard tracks. Cameras click furiously, the setting is so pastoral.
Then we pause beneath the great tree for an aperitif of extra-brut champagne that has just won a gold medal at the Epernay 2015 competition, and "gougère" puffs filled with Chaource cheese. A gentle breeze makes the heat bearable and it is with light hearts we spend time at table.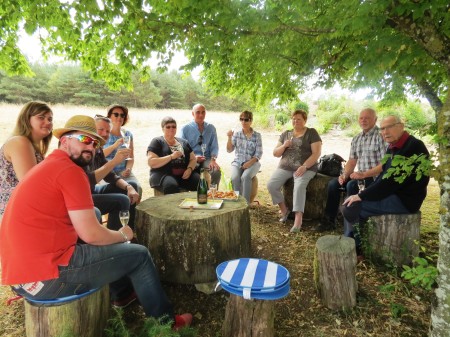 Dishes and wines follow each other. We go from delight to delight, surprise to surprise. Carole, an excellent hostess, has thought of everything. A small break is needed if we want to keep going to the end. We set out in search of bubbles … then, two vintages later, we are declaiming verse in praise of champagne. With pink champagne, also a gold medal winner, arrives the much awaited Chaource cheese, and that's not all, there is still dessert and its vintage, then coffee, which we drink at about 16.00 at the property.
Unanimously, this tasty gourmet picnic was excellent and a joyful occasion. Everyone left well supplied with champagne. It will be so good to remember something of this unforgettable day, at home, perhaps one grey winter evening.
So, don't hesitate, book now for these pure moments of happiness and conviviality. You won't regret it!