Discovering the cathedral's treasure
Just entering Troyes cathedral is already a sensation. But exploring its treasure, brings you a little closer to its splendour and history.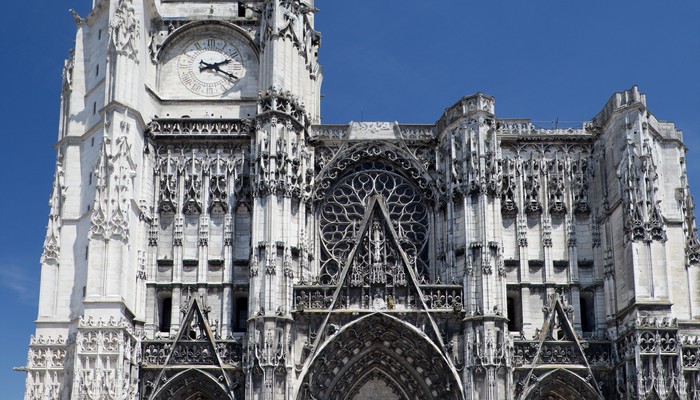 The cathedral: its stained glass windows, its imposing statuary, its freshness in summer… and its treasure! Despite the revolution, which relieved it of a tonne of gold, its treasure remains one of the most important in France, testimony to Troyes' importance in the Middle Ages. So, I ventured out with a picture of treasure in my mind, created more by action movies than religious history… Here, no piles of gold coins but relics, objects of sacred art and a single secular piece: a Byzantine box in purplish ivory dating from the 11th century, one of the jewels in the collection.
Among other curiosities, the treasure houses a shrine to Saint Bernard of Clairvaux, which preserves a piece of his skull. More unusual still, among the relics, a monstrance contains a tooth… that belonged to Saint Peter. Saint Loup, protector of Troyes from Attila, is present via a series of 12th century enamels, which decorated his shrine. His shrine was also destroyed during the revolution. In a corner of a showcase, my gaze lingered on a chalice that could be taken for the Holy Grail: the chalice belonged to Monsignor Hervé, the 13th century bishop responsible for the construction of the Cathedral. Found in his coffin, the chalice was one of the items hidden or buried, and used by the bishops and canons to restore the treasure after the revolution.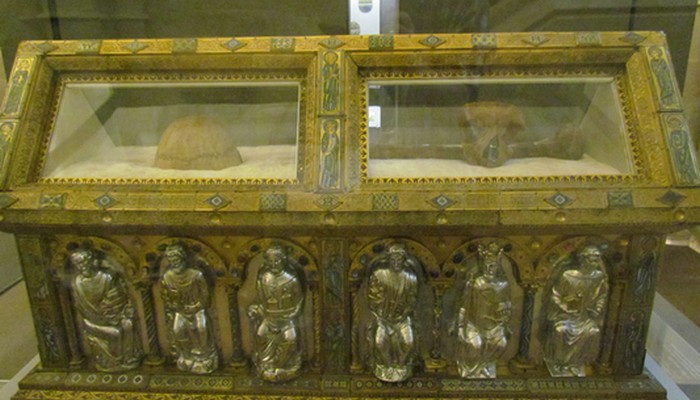 The great new feature of the treasury recently inaugurated, apart from the use of scenography worthy of a museum, is its unguided access. And yes, for a treasury, it doesn't really make sense!
As it is now covered by an alarm system, you can visit it without an appointment, during the cathedral's opening times (9h-12h30, 14h-19h, et 11h30-19h on Sunday).