Our estates' cellars open their doors!
A Sunday, on the road of the wine of kings…
This year we didn't want to miss the event that takes place every year, in the different municipalities that make up Côte des Bar and which attracts visitors from all over the world!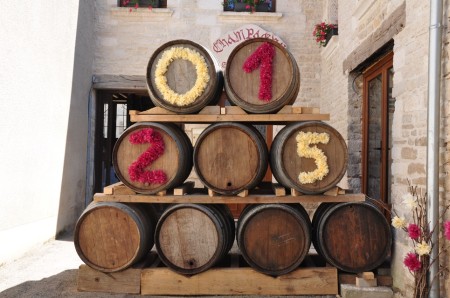 To fill your head with joy and bubbles, the principle is simple. On arrival and for 20 euros, you are given a decorated champagne flute, a booklet containing 24 tastings at 24 different wine growers and a map of the area. It's on foot, the champagne flute comes in the form of a pendant, worn around your neck on a cord, that a few kilometres further on we are all … slightly tipsy.
Ah! I forgot, there's also an alcohol breath test in the kit along with a large plastic glass for fresh water that can also be obtained with a voucher.
For my part, I didn't use my champagne flute that much, just a sip here and there to maintain the atmosphere and to keep my head as clear as possible to appreciate the surroundings. The village is superbly decorated for the event. This Sunday the weather's good and hot and it's a delight for the eyes and palate.
The show is on the corner of every street, and in every house!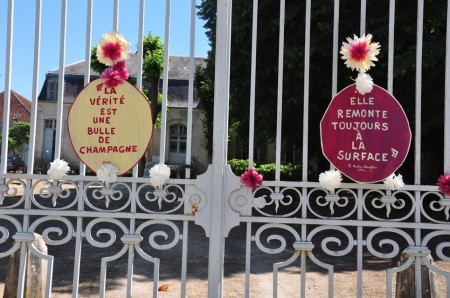 There are flowers everywhere, with over 300,000 made for the occasion. The villagers and volunteers are not sparing in their efforts to decorate their village and moving on from surprise to surprise, I didn't find the close on three kilometres route from Ricey-Haut to Ricey-Bas over long.
In every street, a merry, noisy and colourful crowd, on the lookout for the next tasting stand, seemed to be taking part in a gigantic treasure hunt.
I hang back to admire the flower arrangements, and read the citations all speaking of joy, love and bubbles. I sympathize with the efforts of two cardboard and plaster characters, a runner and a cyclist, who are climbing the Côte des Bar for the "riceton winegrower triathlon", a bottle of champagne by way of a carrot.  I take a picture of the fisherman in his boat on the river with his stock of champagne. I stop in front of a rusty old tractor and the well-preserved winegrower's tools, surprised to find there a true open-air museum representing wine's trades. The winegrowers have outdone each other for imagination, and the village is superb.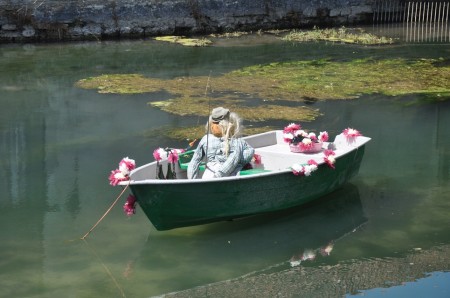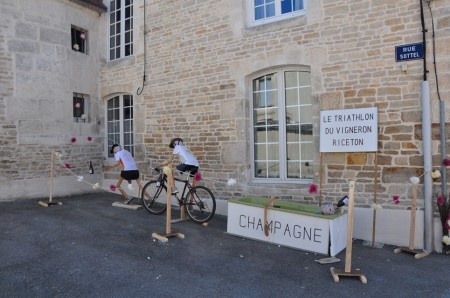 Here, laughing, we push and shove to get to the bar where different vintages can be tasted, while a joyful orchestra belts out the powerful notes of a gleaming sousaphone. Chic, white boaters are given an outing, as are pink wigs. The little train, packed every time it passes, forces a path through the thick crowd.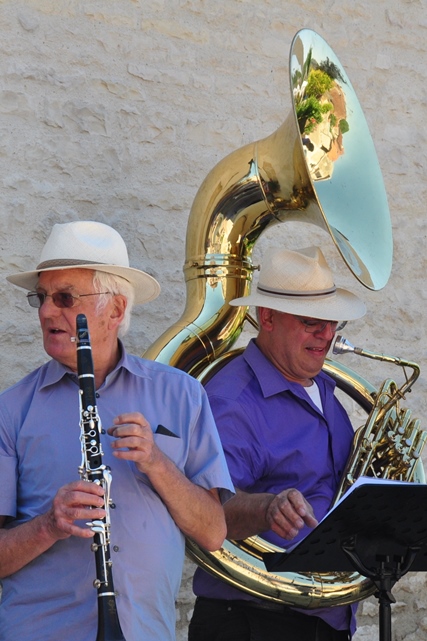 I'm not telling you everything… But then, with the bubbles, perhaps I didn't see everything, but I liked it a lot.
The organizers say they are delighted: they counted over 50,000 visitors coming from all over Europe and even Chinese and Japanese.
Has all this made you want to go? All to the good, that was my aim. Too late for this year I hear you say, then don't miss the date in 2016. 11 municipalities in the Barsuraubois valley, from Bar-sur-Aube to Colombey-les-Deux-Églises, are on the Champagne Route. This will be its 21st edition!