Noë-les-Mallets. C'est à côté du plateau de Blu que se sont développées les vignes du Champagne Veuve Doussot, passant d'une génération à une autre.
Car Veuve Doussot, c'est une affaire de famille ! La famille Joly. Vignerons depuis des siècles, c'est en 1970 que Georges Joly crée la marque, avec ses fils. Aujourd'hui, c'est un des petits-fils, Stéphane Joly, qui a repris le domaine, entouré de sa famille.
Mais alors, d'où vient ce nom, Doussot ?
Tout simplement de la belle-mère de Georges Joly, Ernestine Doussot (1896-1993). A ce qu'il paraît, les femmes Doussot étaient assez coriaces. L'une d'entre elle disait : « Je ne porte pas de soutien-gorge, ça tient tout seul » ! Ça donne tout de suite le ton… 😮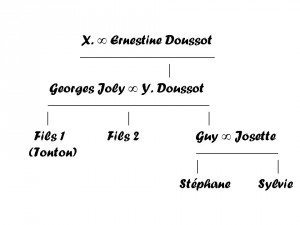 Aujourd'hui, Veuve Doussot, c'est :
– Stéphane, the Boss of VD
– Sylvie Jolie, en charge de l'œno-tout-risque (surtout avec les vendangettes !)
– Josette, la maman, Cyril Lignac de la Maison
– Tonton, qui profite surtout des bons plats de Josette !
– Et Ondine, commerciale (Ce n'est pas une Joly mais chuuut !)
La première vinification s'est faite en 1974 et donnera lieu à plusieurs cuvées.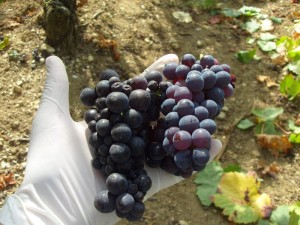 Lors de ma journée vendange, j'ai pu m'exercer à l'art subtil de la dégustation avec
Le L by VD, le Brut de Tradition, le Blanc de Blancs, le Ratafia, le Millésime, le Coteaux Champenois (Chante-Merle).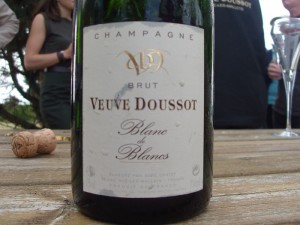 Je l'ai trouvé léger en bouche, moins acide que le Brut, avec plus de notes fruitées et exotiques. Bref, surprenant ! (Oula, c'est que je commence à maîtriser ! Merci à La Minute Champagne !). Et j'ai aussi beaucoup aimé le Chante-Merle 🙂
Alex
#Aube, Soyez Surpris, tourisme, Champagne Veuve Doussot, dégustation