A museum with two sides
Rue de Vauluisant is perhaps not the most attractive street in Troyes, but not taking the time to walk down it would be a sacrilege. Not far from the Museum for Tools and Worker Thought, and opposite Saint Pantaléon church,  Vauluisant museum is a veritable place of memory and heritage for Champagne's cultural heritage. And it's through a two-in-one museum that the story unfolds: our artistic wealth rubs shoulders easily with the world of hosiery.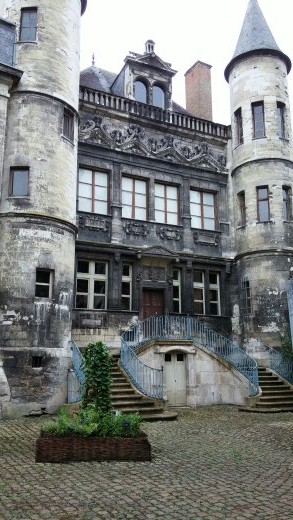 Jardin d

es T

einturiers
I have hardly reached the location for the tour but immersion is already total. Indeed, advancing into the small courtyard entrance, I discover the magnificent façade and understand better why it is listed as an historic monument. The impression of finding yourself in front of a large manor house is accentuated by the presence of a botanical garden where "eryngium campestre", "rubus fruticosus" and "tagete patula" enchant us, each more than the last. It's nothing to do with magic, even if there's a lot of it around, and is sure to be great fun for the children. No, the whole purpose of this garden is to explain their role in dyeing. As a small illustration, madder roots given a sustained red tone, whereas indigo leaves give a blue tint. All this can be seen unguided, so please don't hesitate.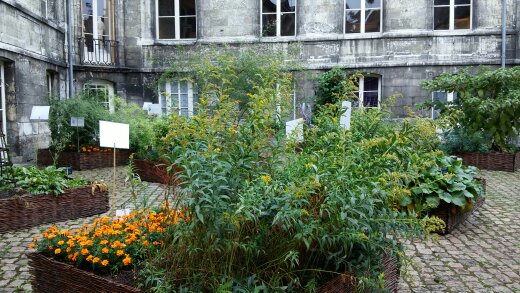 It's after a warm welcome that I understand what awaits me in this museum as well as the route. First you must go up two floors then be guided back down to the ground floor: climbing up to the skies before getting your feet back on the ground? Yes, that's how I experienced the visit: a lavish journey through time.
Aube, a centre for the arts in the 16th century
The first room is very rewarding since it presents us with various fragments of Aube's architectural history. These are medallions, lintel decorations, ends of beams or simply columns, for the most part recovered from Troyes houses at the time of the Renaissance … and it's all there in front of us! As a bonus, a showcase exhibits tools from the period, essential for carving wood and stone: mallets, toothed chisels, round chisels, gouges … You could say the start of this visit really gets down to it! Then I continue into a second room dedicated to paintings.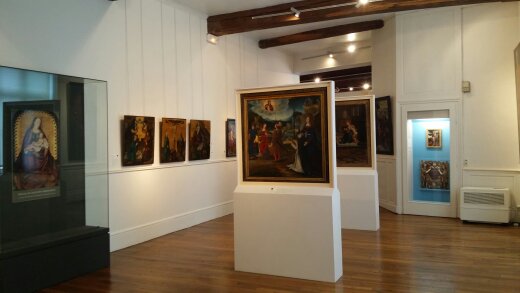 These are almost all donations representing religious scenes, like "The Last Supper" picturing Jesus' last meal before he was betrayed by Judas. My gaze was more directed towards the triptych of the life of the virgin and in an even more grandiose manner towards the polyptych narrating scenes from the passion of Christ. Everything is perfectly detailed in descriptive thumbnails attached to the works. I mustn't forget to mention the great Annunciation fireplace, its presence dominating the room.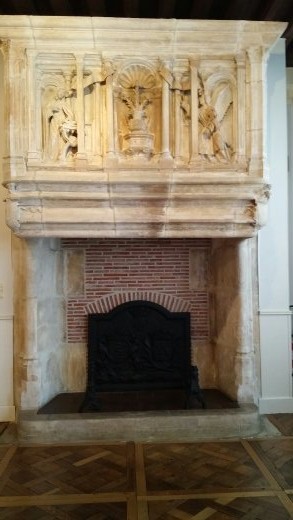 I continue walking along this delicate, creaking wood floor to enter the confines of a small, darker, bluish room. Doubtless I will find out more about stained glass windows: the grisaille technique, lead, enamels, colours and decorative borders … Everything is explained through portraits of Counts, armorial shields depicting saints or windows showing battle scenes. It must be said at once, you'll not become an expert in stained glass windows here, but it has the merit of being a good addition to the tour.
It's with its wood and stone polychrome carvings that the museum finally comes into its own. Still with religious connotations, we are presented with several carvings: these run from simple busts to works of greater size. Sculptures in the round, bas-reliefs and high-reliefs coexist in harmony. And yes, I used the occasion to enrich my vocabulary. All that certainly didn't leave me stone cold!
The story of Hosiery
This is the side of the museum that interested me most. This is still a matter of memory because hosiery was Troyes' activity par excellence in the 18th century. Today, proud of our know-how, we are doing everything we can to retain it despite the current economic situation (cf. the closure of Doré Doré in Fontaine les Grés at the end of 2011). So here, it's an opportunity to dive back into the wonderful story of hosiery from A to Z: the birth of knitting, its export to the east, the development of hosiery in Aube … Here theory is juxtaposed with practice (with the eyes of course!) And the most obvious example is the recreation of a home workshop. One of the means at the time to counter the crisis. In addition to that, we are presented with a whole series of trades to do with knitting, cutting and drums, as well as transfer machines, enamellers, winders and knitting machines. Two schools are highlighted, Vitos and above all Lebocey, through the reconstitution of the Troyes industrial exhibition of 1860. Some very impressive machinery to admire!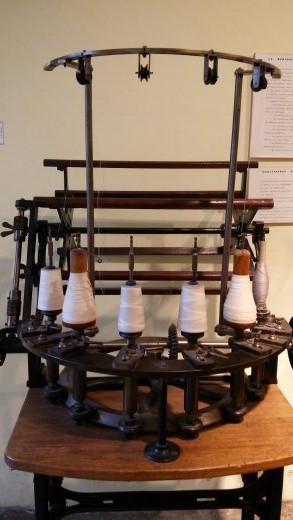 Since everything is well laid out from beginning to end, showcases displaying petticoats, camisoles, boleros and night caps (obviously) can be seen at the end of the tour. There is enough to admire in the presence of this quality work.
There is only one small negative point in this part, it would be good if they could show a short film explaining the history of hosiery but I didn't see one while I went round. They probably did it on purpose so I'll return … and they can count on me again in the future!
Summary
I was expecting a small, unpretentious museum, but I was wrong. Although not comprehensive quantitatively speaking during my visit, it was very complete qualitatively. There's no particular age when it is best to educate yourself and explore the past, that's why I absolutely recommend this Vauluisant museum to everyone and without the slightest hesitation.
Some practical information:  
Entry: Adults: 3 €
Groups (over 12 people): €2 per person / Free: Under 18s – Students under 25 – Job seekers + 1st Sunday of each month + see period below *
Opening times: From 01 April to 31 October: from Wednesday to Sunday 10h – 13h / 14h – 18h,  from 01 November to 31 March (free*): from Wednesday to Sunday. 10h – 13h / 14h – 17h
Ephemeral garden at Hôtel de Vauluisant, each year from 01 May to 31 October.