A day of rich emotion!
It's not easy to make a "photo-video report" during a visit to Clairvaux Abbey, because the first thing you discover when buying your tickets, are the strict rules covering visitors and among them, a formal ban on taking photos. But why this ban? "It's a matter of security measures, Madam", they tell me.
Why did I visit Clairvaux?
I must be honest, when, in June 2015, advertising about the festivities at Clairvaux caught my attention, under catchy headings like "Clairvaux Abbey celebrates 900 years, "Clairvaux 2015" or even "Clairvaux, the Cistercian adventure", I immediately thought: "But surely, isn't Clairvaux a prison?" With the internet there to answer our questions, I used it to learn that the abbey founded by Bernard of Clairvaux 900 years ago indeed became a prison 200 years ago. That forty years ago the prison was withdrawn to a modernized section, and that at Clairvaux, still state property, the Ministry of Justice then handed over to the Ministry of Culture, which undertook major and costly renovations of the Abbey. As the photo most often displayed on this anniversary was that of a magnificent vaulted room of surprising purity, I permanently forgot all about its prison side.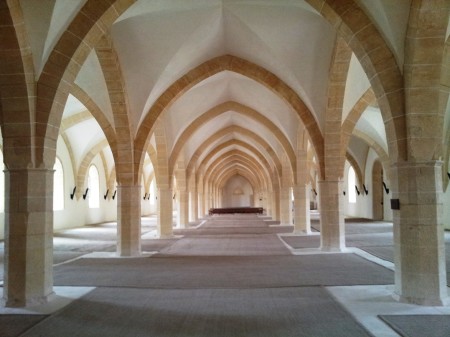 Why am I here? The trigger that sent me out to explore things for myself clicked when, at the beginning of July, in the Est Eclair newspaper, the summer comic strip appeared: "Clairvaux Abbey, body and soul. From history to fiction." From the outset, an atmosphere of mystery emerges from this comic strip, all the more sombre since it is printed on newsprint. I started reading it, page after page, each day in anticipation of the next. I quickly became attached to Bernard, this monk of 25 years, to whom was entrusted the inordinate task of transforming a few hectares of woods and meadows into a monastery, at a time when everything was much more difficult and more physical, but when men were capable of the greatest follies out of love for God. And mainly, it was to recapture the memory of Bernard of Clairvaux and walk in his footsteps, in this place where he trod and where he built his Abbey, that that day I found myself at the Hostellerie des Dames de l'Abbaye, from where the tours start.
Clairvaux: Abbey or Prison?
But here I am confronted by another reality. Not only are photos prohibited during the tour but they also asked me to leave an identity document and turn off my mobile phone. In addition, as visits are only allowed in groups formed, counted and recounted, under the leadership of a guide from the Association Renaissance de l'Abbaye de Clairvaux, I needed to wait for the departure of my group. While waiting, I am told at reception, I can visit the "the prison at Clairvaux" exhibition, which is upstairs. I do this and entry is free. I thought I had banished "Clairvaux Prison" from my mind. But there, two wooden crosses, carved by prisoners, and a stone ball in an iron band on the end of a chain, are a strong reminder ….  So Clairvaux? Abbey or Prison?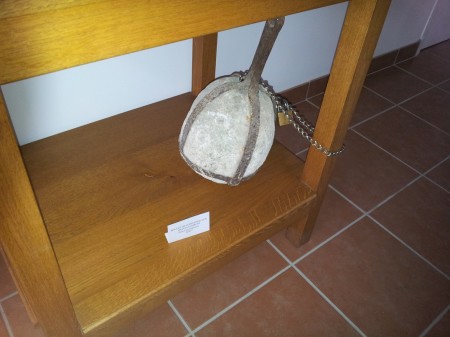 The tour starts and we are each given a badge with a number from 1 to 40. The guide counts us one by one before authorizing our departure. We head straight for the children's prison and its tiny chapel, a beautifully restored ensemble used as an exhibition area. "In 1858, the prison population came to 2,700 prisoners, including 555 children, who worked, either in the workshops or in the agricultural colony", I was to read later. We take a patrol path at the end of which stands a former watchtower. Then we enter a magnificently restored ensemble, the Aile des Convers (the Lay Wing) dating from the 12th century. Ah! There we are, we're in the Abbey. It's splendid! Words fail me. And we leave again towards the great 18th century cloister, which has not been restored yet and which bears all the scars of a prison. What damage! It was high time to create a Ministry of Culture! Stones from the demolished abbey church were used to create intermediate floors under the arches of the cloister, the openings of which are barred by metal grids.
We visit. Dormitories without water, heating or electricity, you can imagine the foul smell that must have reigned in these corridors along which the night's faeces flowed. Upstairs, the "chicken coops", grilles surrounding straw mattresses along a corridor, used up until 1970: the "must… hard" of the visit. Something that probably leaves a permanent impression on each visitor, something that awakened in me the oppression felt in other places, much more terrible than this it is true, Dachau and more recently the torture centre in Phnom-Penh. Of course, I did not visit Clairvaux prison while it was operating, it was there, just behind the window of the monks' refectory, also magnificently restored, with its modern watchtowers and armed guards. I could hardly bring myself to give it even a furtive glance.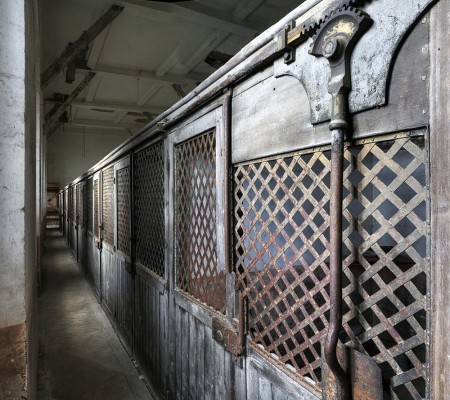 And Bernard in all this?
What suffering in these premises. The walls retain the sounds of the past, which they restore to those who really want to hear their echoes. I listened for the sound of Bernard's footsteps. I thought about all those monks who renounced their secular life to follow Bernard and live, of their own volition, the life of a recluse in Clairvaux Abbey or elsewhere, there were so many. Times have changed, but I think Bernard never left his abbey, the Bernard who wrote: "Should it happen that you have men to govern you, constrained, punished, but with great love and charity, with a view to their eternal salvation, fearing that, if you spare the flesh, souls perish."
Please understand, I enjoyed this visit. It is surprising and moving and I want to say to all of you who are reading this: you must visit Clairvaux now, because 900 years of history still coexist there and the future Clairvaux is already emerging.