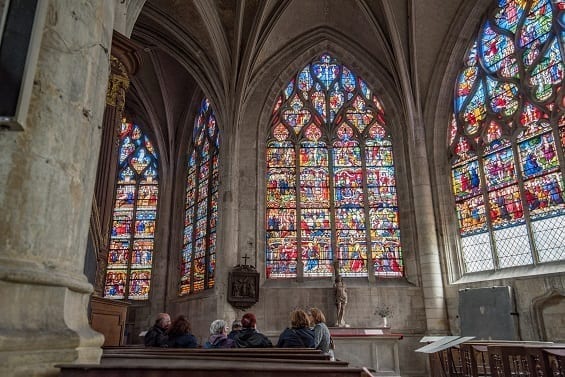 The art of stained glass: Aube en Champagne, European capital of stained glass
From Troyes Cathedral to modest rural churches, the department of Aube en Champagne has a collection of stained glass windows unique in Europe.
No other territory offers such abundance, quality and density at the same time.
Spread over some 200 churches, its 9000 m2 of stained glass windows offer a complete panorama of the art of stained glass from the 12th to the 21st century – with an exceptional representation of the "Beau XVIe" (1042 bays classified as Historic Monuments).
Religious or civil, these luminous chronicles, with their shimmering colours and subtle harmonies, are the result of a long history and a know-how that is still being perpetuated. The art of stained glass is still very much alive, notably through two renowned companies: "le vitrail Vinum" and the Flavie Serrière Vincent-Petit factory.
Troyes "Illustrated book of stained glass".
Gothic churches had large transparent windows and were therefore decorated with intensely coloured stained glass. The new architecture of the 16th century favoured the development of these small, brightly coloured pictures illustrating a biblical, historical or even allegorical subject.
The stained glass windows turn the city into a real picture book! Between 1480 and 1580, there were no less than 29 glass painters, who were at the same time creators, restorers and simple glaziers.
The department of Aube en Champagne is the richest in France with its 9000 m² of stained glass windows from the 13th to the 19th century, including 1500 m² for the Cathedral of Saint-Pierre and Saint Paul in Troyes.
In the 16th century, at the same time as sculpture, stained glass underwent a splendid revival in southern Champagne. Troyes then became the largest French centre for stained glass.
Linard Gonthier, The Master Glassmaker
After a stylistic period in which greyscale enhanced with reddish chalk became the norm, in reaction to the previous period of intense colouring, the art of stained glass was running out of steam in most towns. But not in Troyes!
From 1595, Linard Gonthier pushed the art of stained glass to its peak. He returned to bright colours, this time set against a white background. Among his works, the most remarkable is the Mystic Press in Troyes Cathedral.
The Aube en Champagne Stained Glass Trail

The Circuit du Vitrail offers visitors the opportunity to discover, in 51 churches in the Aube en Champagne region, the stained glass windows selected for the particular interest of their glazing. You will appreciate the complete panorama of the art of stained glass from the 12th to the 21st century.
The starting point of this tour is the Cité du Vitrail in Troyes; you will then be directed to visit the fifty or so buildings in the Aube.