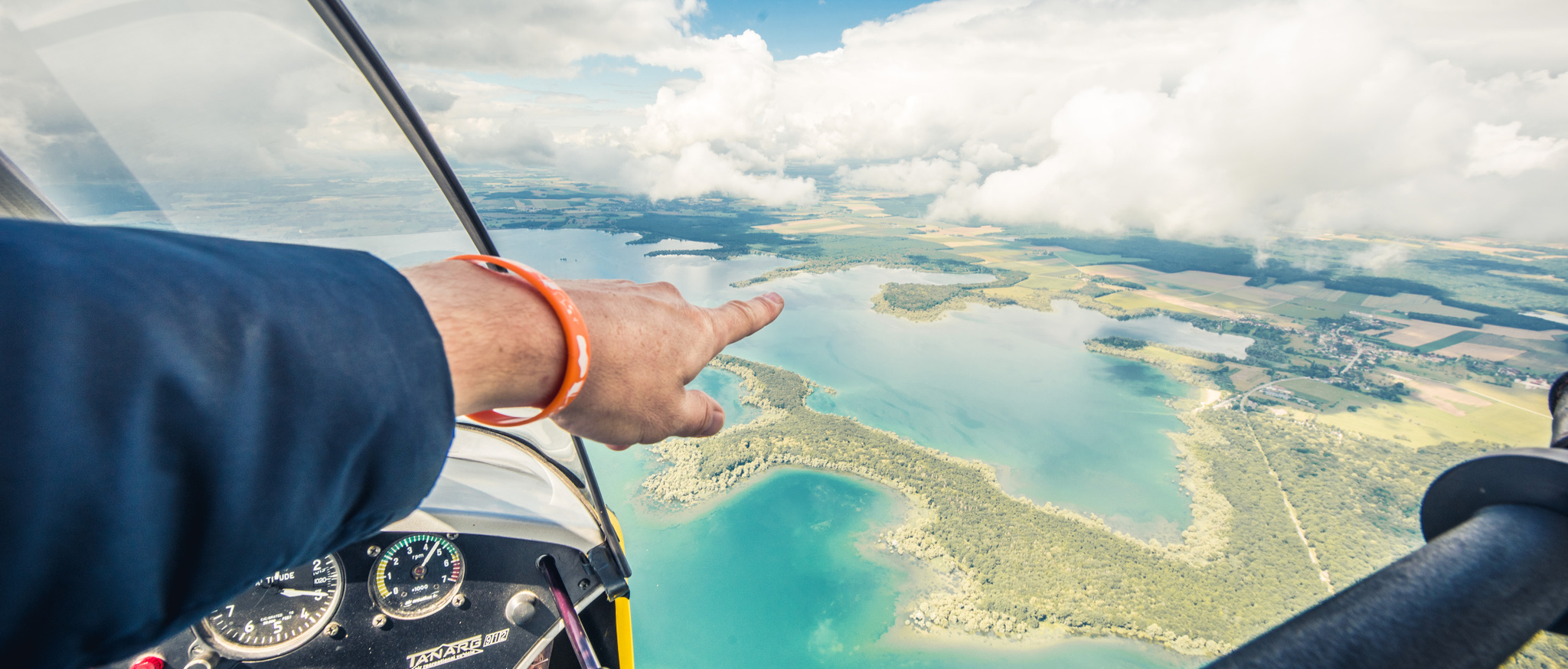 Vineyards, lakes, forests, plains… Aube en Champagne is full of colourful landscapes and different atmospheres for a total change of scene. On foot, you get lost, you enjoy smelling the smells, in the air you love to see, to notice the differences in colours: a peak of adrenalin at take-off, and all that's left is to let yourself glide. In addition to our selection of activities, let yourself be inspired by Yonder's programme for a weekend in Champagne.
So, are you ready to vibrate in the Aube?
From Brienne-le-Château airfield, take off in a microlightfor a breathtaking experience: fly over the Forêt d'Orient Regional Nature Park and the great lakes of Champagne, and enjoy the spectacle and beauty of the surrounding area. Choose the "hydro-ULM" option for a water landing on the lake (from April 1st to October 31st).
Aube ULM
BRIENNE-LE-CHATEAU AIRFIELD
Embark with Emmanuel in his hot-air balloon and take off from the Castle of Motte-TIlly to discover the Seine valley and its meanders, unless you prefer a flight over the great lakes of Champagne and their idyllic panorama, or a unique moment above the medieval centre of Troyes to see the Champagne cork shape of the city centre. In this "Jules Verne" excursion, take your place in the gondola, ready to contemplate the changing nature and wide open spaces: everything seems small from up there! After an hour's flight, we land in amazement, having filled up on images for a good time…
Champagne Air Show
SAINT-LUPIEN
Maximum height, maximum sensation!
With some 40 attractions that make its heart beat faster, Nigloland promises a change of scenery and guaranteed thrills! Among the great novelties of the last few years, we can mention the Extreme Dungeon with its 100m free fall at 115 km/h and the Noisette Express, a new family rollercoaster. 2021 will be no exception with the new Krampus Expedition water coaster. Can you escape the mythical beast that has haunted the high mountains for generations?
Go on an adventure! Put on your gloves and harness, and let's go for a tree climbing session worthy of the name! 8 courses available: young and old will find a challenge to their sizeat Grimpobranche, in the heart of the Forêt d'Orient. For the more down-to-earth, choose crampons or paddles for a session of Bubble Foot or canoeing!
Grimpobranches
LUSIGNY-SUR-BARSE
Take off for a first flight!
In Celles-sur-Ource, embark with a winegrower pilot who will take you to discover the Champagne hillsides… from the sky! An atypical encounter with Champagne, a unique exchange with a passionate producer who will have many anecdotes to tell:a convivial moment and a nice surprise in sight.
Aero club of the Côte des Bar
CELLES-SUR-OURCE AIRFIELD
You may be interested in: