To help visitors go out and meet the winegrowers, a 220 km signposted route winds its way between hillsides and valleys, between winegrowing villages and champagne houses. A sparkling itinerary…
220 km of Champagne Route
Staying in the heart of the Champagne Route means easy access to the city of Troyes situated only thirty minutes from Bar-sur-Seine. It also means you can use it as a base for touring around the Champagne Route. Burgundy is not far away.
 

Accommodation in Côte des Bar means you can easily explore the city of Dijon and the Champagne and Burgundy vineyards.

Via the A5 motorway which passes between Bar sur Seine and Bar sur Aube, Paris is not too far away for a day trip and even the Reims and Epernay vineyards are accessible so that you can cover all, or almost all, the champagnes!
To help visitors go out and meet Côte des Bar's winegrowers, a 220 km signposted route winds its way between hillsides and valleys, between winegrowing villages and champagne houses. All along this sparkling itinerary, 39 cellars open their doors to the public. They have been selected from Aube's 2,589 winegrowers for their excellent welcome, the quality of their facilities, their availability and their expertise.
It is the winegrowers who guide sparkling wine enthusiasts through the cool of vaulted cellars sometimes dating back to the 12th century, where the bottles are kept, to discover a wine with a thousand and one qualities.
They talk about their grapes, the care and attention they give to their vines right up until the moment of harvest (because champagne derives its main characteristics from the soil and the sunshine). They demonstrate pressing then assembling, the subtlety of all these specific techniques that make champagne a unique wine on an international scale.
Then comes that special and memorable moment when the wine is tasted and visitors learn to discern champagne's multiple flavours, vintages, rosés, extra rich, special vintages …
Champagne Festival – Route du Champagne en fête
2019, July 27 & 28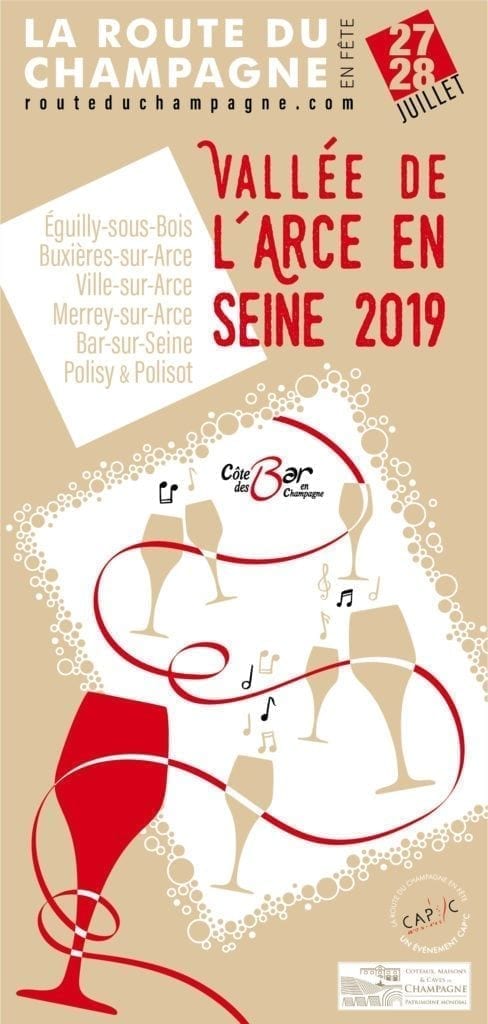 Champagne is undeniably the king of the festival. The flute passport is the essential key. This precious container gives the holder access to each cellar and the freedom to taste the champagnes on offer. Organized events are planned in all the villages dressed up for the occasion: gourmet lunches animated by wine experts, exhibitions on champagne, shows in the streets…
So many subtle differences and harmonies to discover from cellar to cellar …
The Touristic Route of Champagne


Go down into the cool of a Champagne producer's cellar and turn your taste the charm of this divine nectar. We have selected some accredited cellars for you, noted for their warm welcome.
Labeled "Vignobles et découvertes" Cellars opened their doors on sundays and holidays